Every day, there are thousands of Android apps are uploaded to the google play Store. As an Android user, You are always looking for new apps that can make your life easier or more interesting. So In this post, Let's check out useful secret Android apps on the google play store.
We have compiled this Useful Android app on its functionality and usage. You will love all the Android apps listed in this article. These lists will cover every category of apps from the most useful android apps of 2022. Best Android Apps in Telugu 2022.
Remind Me – Notif Reminder Apk
Notif Reminder Apk is a simple and powerful Reminder app for android users. You can download this Remind me app from the Google playstore for free. You just need to enter your tasks or To-Do list in this app.
It has three options to save your Reminders. You can put your Tasks on the notification bar by clicking on Persistent. If you want you can save them to review later. You can also schedule the reminders as Notifications.
Definition of Notification Priority
High Priority (Heads Up Notification with Sound tone)
Medium Priority (No Heads Up Notification with sound tone)
Low Priority (No Heads Up Notification + without sound)
Transparent Wallpaper App
We have tried Hundreds of wallpapers and wallpaper apps also check out 5 Best Minimal High-Quality Amoled Wallpaper Apps For Your Android Device! This Transparent wallpaper app will make our wallpaper a live camera. this app will replace the static home screen wallpaper and adds the camera view as our wallpaper.
This is so much fun if we show this to our friends. But we don't recommend using this wallpaper app for a long time. apps keep crashing android it will be great if you use it just for fun. if you want you can set up multiple wallpapers on your android read this for more details on How to set multiple wallpapers on Each home screen Android.
Scrolling Icons Live Wallpaper APK
If you love customizing your smartphone then you will love this Scrolling Icons app. Scrolling Icons is a free live wallpaper for Android. Also Checkout some cool Android Setups @4android.in
Using this Scrolling Icons apk you can set your wallpaper as a live wallpaper in which selected icons will scroll along your screen. Also, read must have android customization apps.
Gramly – Toolkit For Instagram
Gramly is an all-in-one toolkit app for Instagram. This app has all the required tools in one place. Using the Gramly app you can Download Instagram Reels, Photos, and IG tv videos. Gramly offers a one-click Reels and stories Downloader.
Alongside, it has got a bunch of other useful tools like 9 Grids photo cutter for Instagram, Color Picker, big size Profile Picture Downloader, multiple Stylish Text copy for Instagram captions, Trending Hashtags, and more!
Also Read: How to Get Download Button on Instagram
Instander – Pro Version of Instagram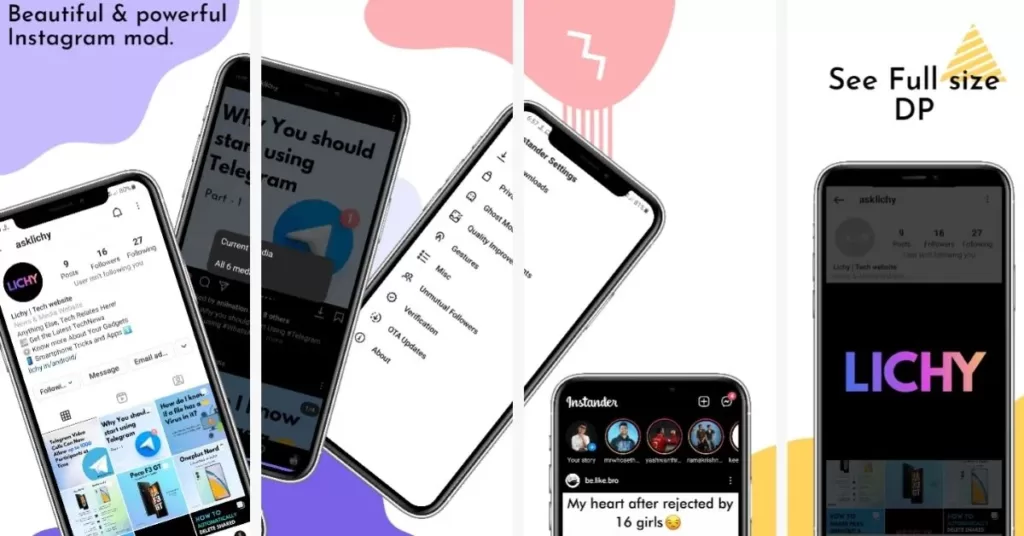 Instander is a free modification of the Instagram app for android. It contains many improvements over the original Instagram application. Instander has a lot of different improvements that give the user an edge over other Instagram users.
Instander is the best Instagram open source app it will enable core features that actually not on the official Instagram app. there are different sections of Instander settings. You can find ghost settings that will enable extra features. The main features of Instander are
Ads Free – There are no ads On Instander.
Downloader – Download photos, videos, stories, and IGTV with ease.
HQ Media – Upload your photos and stories with better quality.
Privacy – View stories, read and write messages without anyone's knowledge
Float Tube – Floating Video Player
If you are using Youtube a lot like me then you will definitely love this Float Tube Apk app. A float tube is a simple tool for Android Users. it will enable us to use Youtube in the PIP mode.
You can download this Float tube apk from the google playstore for free. After installing, open this app and tap on any video to play it on pip mode. Also Read: How to get a Youtube premium membership for free.
---
Advanced Download Manager
We used a lot of download managers and Torrent client apps which will download our torrent files with ease. coming to this ADM app is a very old yet powerful torrent Downloader. It has a lot of download features.
We need to manually adjust the download settings. we can set multiple downloads up to five files at once. This Best Download manager allows us to download any particular movie with a single tap.
Instabridge
This app is the must-have app for every smartphone user out there. This app allows us to see wifi and hotspot passwords within the app. This Instabridge app will show all the wifi networks with their passwords. We can see the directions of any network by using google maps. It will show all the details about the network and if it works or not.
This app also has a Built-in VPN with a Browser that will block all the ads and trackers. if you want to use a private and useful browser then you need to check out this useful android app. we also have a useful app list for 2022.
Text Plus – Get Free US Number
Want a US mobile number for free? This Text plus app will provide us with a US mobile number for free and no phone service is required! Just download and signup using temporary emails and get the free US virtual free mobile number.
You can use this number to create a WhatsApp account and telegram account or you can use this to call your friends. Also, check out How to Delete Temporary Screenshots on any android
Using the TalkU app you can make calls and messages with ease. Just signup for the app using the above free Virtual Mobile number which we generated using the Textplus app. after creating the account you can use the mobile number to make calls and the call quality is good.
Hexanome – Minimal Mind Game
Hexanome is a turn-based puzzle game. Think logically to collect squares on the level while AI blocks your way. As the name suggests, there are Hexagonal blocks and we need to collect the square blocks by swiping through the game.
This is very fun to play the game and the levels are the beginning are very easy and go harder as you go on higher levels.
If you download Android Apps from third-party sources, we highly recommend scanning the files before using them. Read this Article for more details on How To Check If An App Contains Viruses And Spywares Before Installing
Watch our Youtube Video